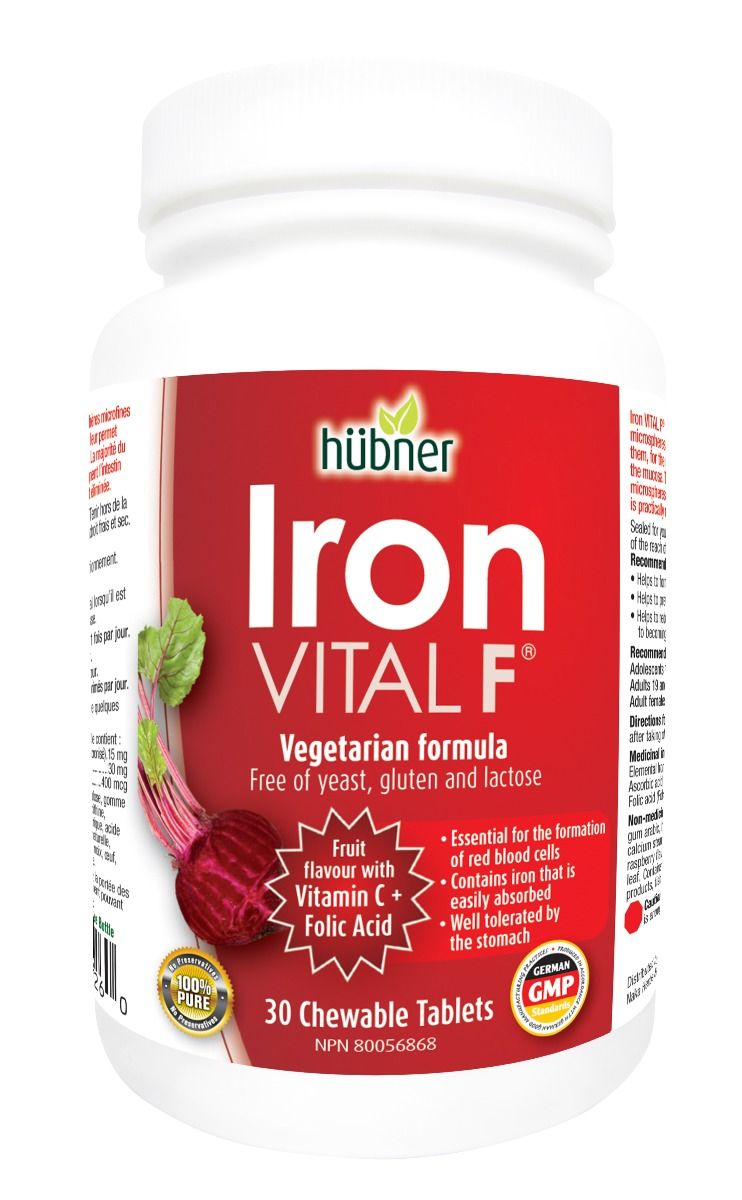 Iron Vital®
F Tablets
30 chewable tablets
Iron Vital® F Chewable Tablets by Hubner
Iron VITAL® F contains a new generation of iron. The microfine Iron F microspheres are coated with special protective layer, which allows them, for the most part, to pass into the stomach without irritating the mucosa. The majority of Iron is not released until the Iron F microspheres reach the upper intestine. This way, stomach irritation is practically ruled out. This formula has a fruit flavour with Vitamin C + Folic Acid. Vegetarian Formula, free of yeast, gluten and lactose.
GRATUITO EE. UU./Canadá
1-888-900-2299
International
1 (514) 695-2299
- EST between 8 a.m. and 9 p.m. -
los siete días de la semana
Correo
|
Cheque
|
Fax
|
C.O.D.
Giro postal
Recommended purpose or use:
Helps to form red blood cells and helps in their proper function
Helps to prevent iron deficiency
Helps to reduce the risk of neural tube defects when taken daily prior to becoming pregnant and during early pregnancy
Recommended dose:
Children 4-9 years: 1 tablet 1 time per day
Adolescents 10-18 years: 1 tablet 1 time per day
Adults 19 and over: 1-2 tablets 1 time per day
Adults female: To prevent iron deficiency, take 2 tablets per day
Directions:
Take with food. Take a few hours before or after taking other medications.
1 bottle last 1-2 weeks depending on dosage.
Each chewable tablet contains:
Elemental Iron (from 57 mg Micronized ferric pyrophosphate)
15 mg
Ascorbic acid (Vitamin C)
30 mg
Folic Acid (Folate)
400 mg
Non-medicinal ingredients:
Isomalt, d-mannitol, cellulose,gum Arabic, beet juice concentrate, maltodextrin, lecithin, starch, calcium stearate, silicon diozide, citric acid, malic acid, natural raspberry flavor, natural blackcurrant flavor, stevia rebaudiana leaf. Contains no added gluten, nuts, eggs, animal products, dairy products, fish or shellfish, wheat or yeast.