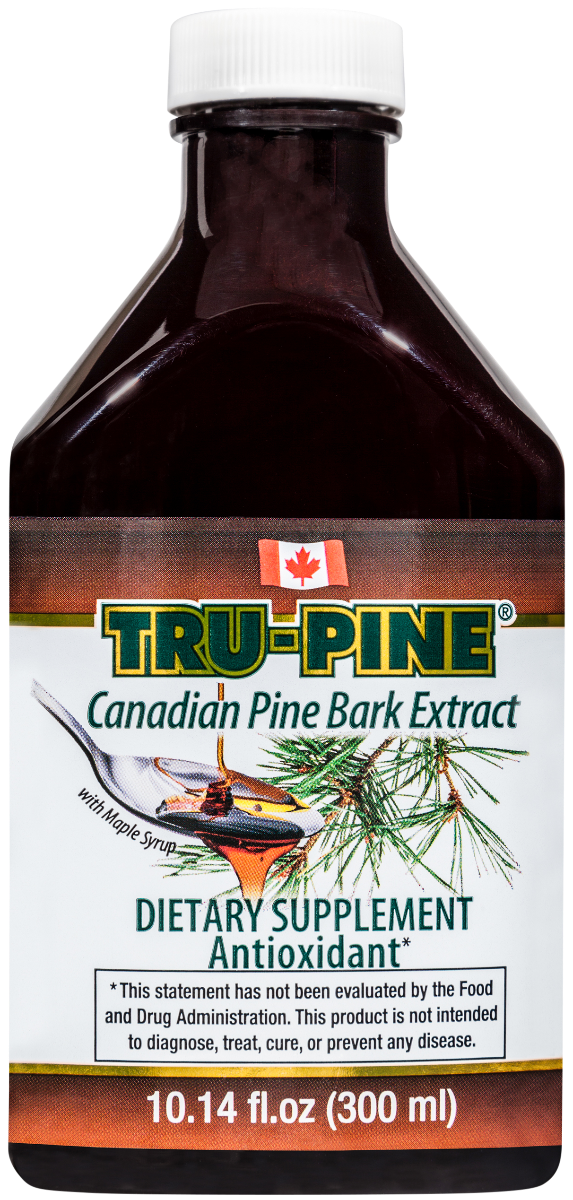 TRU-PINE®
Liquid Extract
300ml
The original TRU-PINE® is made with Canadian Pine
Our quality
TRU-PINE® is a premium quality liquid extract made of pure Canadian Pine Bark Extract (Pinus Strobus) with a great maple syrup taste. Its unique extraction process ensures consistent quality in every teaspoon. TRU-PINE® is gluten free.
Good manufacturing practices
TRU-PINE® is blended and bottled in a cGMP (good manufacturing practice) certified manufacturing facility. All employees are required to wear protective head, body and footwear gear. All ingredients in TRU-PINE® are submitted to quality control tests, including high performance liquid chromatography, near-infrared spectrometry and microbiological analysis.
The Technology
The technology developed to produce TRU-PINE Original Canadian Pine Bark Extract was researched and developed by Agriculture and Agri-Food Canada, resulting in a uniquely balanced pine bark formula and a state of the art extraction process.
CALL US TO ORDER
BY PHONE
TOLL FREE USA/Canada
1-888-900-2299
International
1 (514) 695-2299
- EST between 8 a.m. and 9 p.m. -
seven days a week
Mail
|
Check
|
Fax
|
C.O.D.
Certified Money Orders
Suggest Amount:
Used as an antioxidant against free radicals for the maintenance of good health.
Suggested Dosage:
Take 1-2 teaspoons, 2 times per day. Consult a health care professional for use beyond 3 month.
Caution:
Do not use if pregrant or breastfeeding. Do not use if safety seal under the cap is broken or missing. Keep out of reach of children.
Format / Size / NPN:
Format: 300ml-10.14 oz per bottle
NPN: 80021517
PRODUCT INGREDIENT PER 2 TEASPOONS:
Ingredient Name
Label Claim
White Pine (Pinus strobus) extract of bark standardized at 95% of proanthocyanidine
73.7 mg
Red Cabbage (brassica oleracea) leaf extract Standardized at 95% of Anthocyanin
5.25mg
Non- medicinal ingredients:
Distilled water,maple sugar,citric acid,potassium sorbate,sodium benzoate. Gluten, lactose and yeast - free. Non- irradiated.
The information on this website is not intended to substitute professional advice. It is provided only as information, by Altramed Inc. One should always remember to seek professional advice from a physician, pharmacist, naturopathic doctor, or other qualified health professionals when taking dietary supplements with other medications